The Shirley Jackson Project: Comics Inspired by Her Life and Work
Edited by Robert Kirby
2016, Ninth Art Press
Seventeen acclaimed alternative cartoonists explore and celebrate the work of the legendary mid-20th century author Shirley Jackson ("The Lottery," The Haunting of Hill House, We Have Always Lived in the Castle), including Colleen Frakes, Katie Fricas, Annie Murphy, Josh Simmons, and Maggie Umber. Edited by Ignatz Award-winner Robert Kirby.
From the back cover: The Shirley Jackson Project is a witty, poignant, and immensely readable tribute volume to one of twentieth century American literature's most talented, versatile, and significant authors. If you love the work of Shirley Jackson, you will treasure this volume. -- Bernice Murphy, editor, Shirley Jackson: Essays on the Literary Legacy
"An anthology that honors Jackson by refusing to reduce her work to any one element." -- Greg Hunter, The Comics Journal
Most people can say what sign of the zodiac they are, whether or not they know what the sign means or even believe in astrology. But the twelve alt-cartoonists in "What's Your Sign, Girl?" have something to say about their locations on the zodiacal calendar. With enthusiasm, skepticism or dismay, the artists share how their signs impact self, relationships, and their places in the cosmos.
The constellation of contributors: Aries: Delaine Derry Green; Taurus: Kevin Budnik; Gemini: Whit Taylor; Cancer: Tyler Cohen; Leo: Cara Bean; Virgo: Robert Kirby; Libra: Rick Worley; Scorpio: Eric Kostiuk Williams; Sagittarius: Dan Mazur; Capricorn: Annie Murphy; Aquarius: Aron Nels Steinke; Pisces: Marnie Galloway
"(An) ambitious anthology from Rob Kirby, who as per usual invited a fascinating collection of artists to contribute...Kirby has an uncanny sense of how to assemble his line-ups, which is a tribute to his skills as a networker and editor in order to have a wide array of artists to choose from as well as an idea of who would fit in best with a particular theme...perhaps his best small press anthology to date." -- Rob Clough, High-Low
What's Your Sign, Girl? Cartoonists Talk About Their Sun Signs
Edited by Robert Kirby
2015, Ninth Art Press
QU33R: New Comics from 33 Creators
Edited by Robert Kirby
2014, Northwest Press
QU33R, from editor Rob Kirby, features great new comics from 33 contributors—legends and new faces alike, including Tyler Cohen, Edie Fake, Nicole J. Georges, Justin Hall, Carrie McNinch, MariNaomi, Annie Murphy, L. Nichols, Eric Orner, Sina Sparrow, Sasha Steinberg, Eric Kostiuk Williams, and many more. Winner of the 2014 Ignatz Award for Outstanding Anthology.
"QU33R unquestionably succeeds as a wide-ranging survey of queer cartoonists at this point in time." -- Robert Clough, The Comics Journal
The sequel to The Book of Boy Trouble (below), this sequel features all-new work that is all in color! Contributors include the usual crew, including Anonymous Boy, Craig Bostick, Michael Fahy, Andy Hartzell, David Kelly, Robert Kirby, Steve MacIsaac, & Sina Shamsavari, plus BT newcomers like Howard Cruse, Victor Hodge, Dave Ortega, & Robert Triptow.
"Many of these stories recount the ineptitudes and embarrassments of adolescent self-discovery...celebrate sexuality that eschews the preened, cloned image of gay males. Others question the lines drawn between race, class, and culture...Kudos for these cartoons, entirely." -- Lambda Book Report
The Book of Boy Trouble, Volume 2: Born to Trouble
Edited by Robert Kirby and David Kelly
2008, Green Candy Press
The Book of Boy Trouble, Volume 1
Edited by Robert Kirby and David Kelly
2006, Green Candy Press
The best of the first four issues of the gay boy comics zine Boy Trouble, with lots of extras, including 24 pages in full-color. Featuring those lovable BT cartoonists, including editors Rob Kirby & David Kelly, along with Anonymous Boy, Craig Bostick, Michael Fahy, Andy Hartzell, Brett Hopkins, Nick Leonard, & more.
"Boy Trouble boys are my kinda boys" -- Alison Bechdel
This fifth edition of the classic gay boy comics anthology mutated into an acclaimed 80-page paperback, featuring all the BT artists we've all come to know and love, including David Kelly, Michael Fahy, Andy Hartzell, and Craig Bostick, as well as kick-ass new-comers to the BT experience, such as Shirtlifter creator Steve MacIsaac, and hot-stuff girl creators like Leanne Franson, GB Jones, and Jennifer Camper.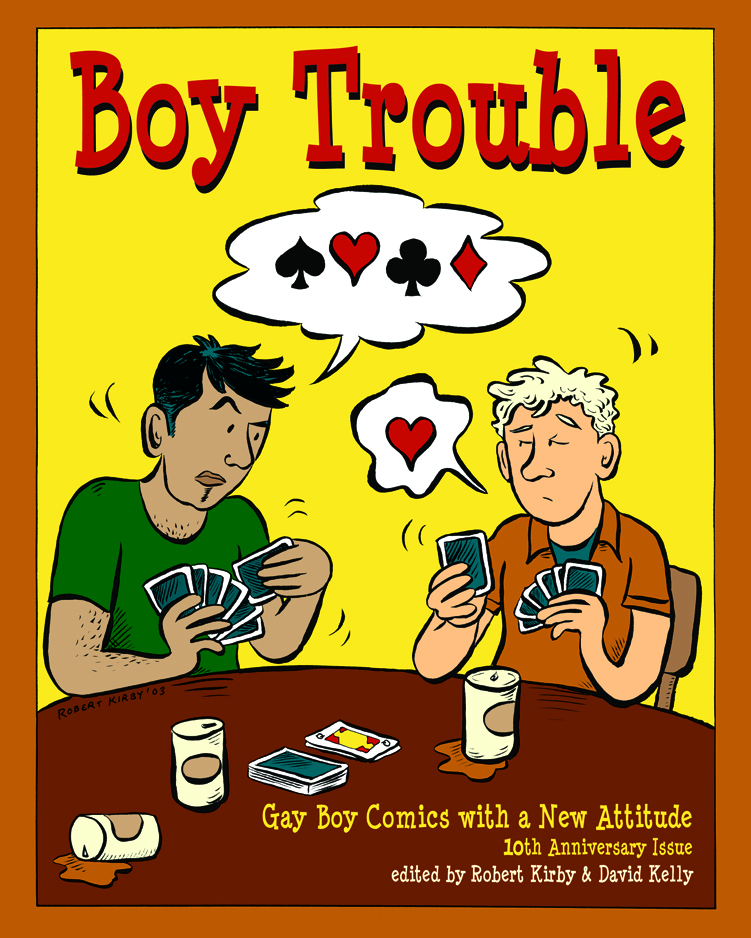 Boy Trouble #5: 10th Anniversary Issue
Edited by Robert Kirby and David Kelly
2004, DK Press
Curbside Boys: The New York Years
Robert Kirby
2002, Cleis Press
A well-regarded graphic novel about the tumultuous love affair between Drew, a lonely would-be writer, and Nathan, a sexy slacker type, in late 1990s New York City. The Lambda Book Report called this "an unexpected little treasure," while Brian Cronin at Comic Book Resources wrote, "The art is good but the real draw here is the interactions between the characters - they're all so relatable that it never feels like a soap opera - it feels like real life, and that's an impressive feat by Kirby with a fictional work." Now out of print-type print, but available in ebook form.
"I adore Curbside. You must take take these sweet, loutish, calculating, ingenuous, raunchy, romantic boys home with you right now." -- Alison Bechdel
The Spanish translation of Curbside Boys, published by La Cupola in 2005.
Los Chicos de la Acera de Enfrente: Los Años de Nueva York
Robert Kirby
2005, La Cupola
Robert Kirby
1998, Hobnob Press
Published by Hobnob Press (aka Rob Kirby) in 1998 after he got a Xeric Grant, this book collects the best of the first 4 years of Rob's comic strip, "Curbside," which ran in the gay and alternative presses for 17 years (1991-2008). Sorry, the book is now out-of-print, and now sells only at hyper-inflated prices from used book outlets. What can we say, you had your chance.